I let out an *audible* gasp when I first saw these boots. You will find that I do that a lot. They are GORGEOUS! I mean, from the shape of the heel to the texture and color. LOVE them.
They are Gucci's 'Kim' Tall Python Boots – in oxblood from the 2013 Fall/Winter collection. The retail price is about $3200 if you can still find them brand new – which is hard. I found a few sites like Lyst.com that had one pair but mostly they are gone. Of course there is always eBay, which don't have these listed as of this writing but they DO have the booties which brings me to this…
The BOOTIES!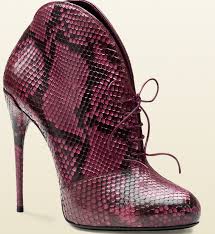 Just as sick as the tall boot. While its a whole different flavor – these booties are equally to die for *and* they come in a variety of colors (look at the metallic they are disgustingly fly) that are available in a few outlets. starting with eBay. They retail for about $1500 but I have seen them online from $350 on up.
Now, full disclosure, I tend not to style stalk high end designer items. In fact the only high end designer stuff I buy are things marked waaaaaay below retail or things I love so much I feel like my life can't go on without them. The latter happens close to never. I'm a practical girl (hence the site title) and I like to find practical solutions to my style appetite. Having said that, I have to share that I settled on these beauties: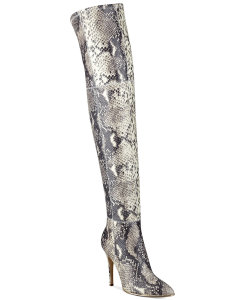 They are Guess' Zonian Over the Knee Boots and they retail for $159 at Macy's and are frequently on sale for $99 in other outlets. They come in other colors too. My cousin has the black and loves them!
So, the moral to this story is whether your budget is Gucci or Guess we should all be wearing over the knee snakeskin boots this fall. Right? Right.