First: I have to start out by giving my baby giant, my whole heart and my magical photographer extraordinaire a giant HAPPY BIRTHDAY!!!! Whoo-hoo! I don't know how I got to be this fine with a seventeen year old, but alas here we are. 🙂
Every season I latch on to a new trend and become what some might call – obsessed. Last year it was definitely full, midi, skirts. I own seven of them in all kinds of colors and patterns and textures from faux leather to sequin. Love them. I think it started with Tibi's gorgeous collection of full, midi skirts in 2013. As pretty as they were I could not fathom plunking down upwards of $400 for a skirt. But alas, fast fashion always saves the day. Both Top Shop and H&M introduced great, quality, variations on the midi-skirt and I grabbed up as many as I could!
This is a particular favorite of mine because it is almost an exact replica of one that Tibi did last winter. I first saw if on of my top 10 bloggers Atlantic-Pacific and went gaga! Imagine my surprise when perusing the aisles in my favorite H&M on 34th St. in New York and I saw this skirt. I never saw it online because, as H&M tends to do, it was introduced in-store only as a part of the (ever so lovely) Trend Collection. There was ONE left and it was an 8. "Why Tarana, you are clearly not a size 8 girl!" That's what you're thinking right? I know, its ok. My heart sunk, but I put it on hold and ran down to my back up H&M a city block away – also on 34th St. and I scoured the racks. I checked the dressing rooms and other sections – nothing. I went back to the first store and took the skirt to the dressing room – and here is why I LOVE full skirts – it fit! Like most of y'all. My natural waist (if your tits hang a lil low like mine its about three inches below your breasts if not we'll just say its about six inches above your navel) is a bit smaller than my 'low waist' for lack of a better description. Therefore when I put in the skirt and sat it almost at my natural waist, not only was I able to zip it (not button) but I was able to beautifully camouflage those pesky little stomach rolls. Here I paired the skirt with a black and white gingham blouse and big white belt to enhance my silhouette a bit. I threw on my denim jacket because, in my world, a great denim jacket with a popped collar is the quickest way to be effortlessly stylish!
I also wanted to showcase this with flats and heels. I wear heels all of the time, but I honestly have what the elders might call 'bad foots'. I have had problems with my feet and walking since I was a child and I've even had surgeries to improve the situation to no avail. I run my shoes down as a result, but I can't stop buying them. Now that I'm a little older I simple bring flats everywhere I go. I thought both of these shoes worked really well with the outfit – what do you think? Do you prefer one over the other?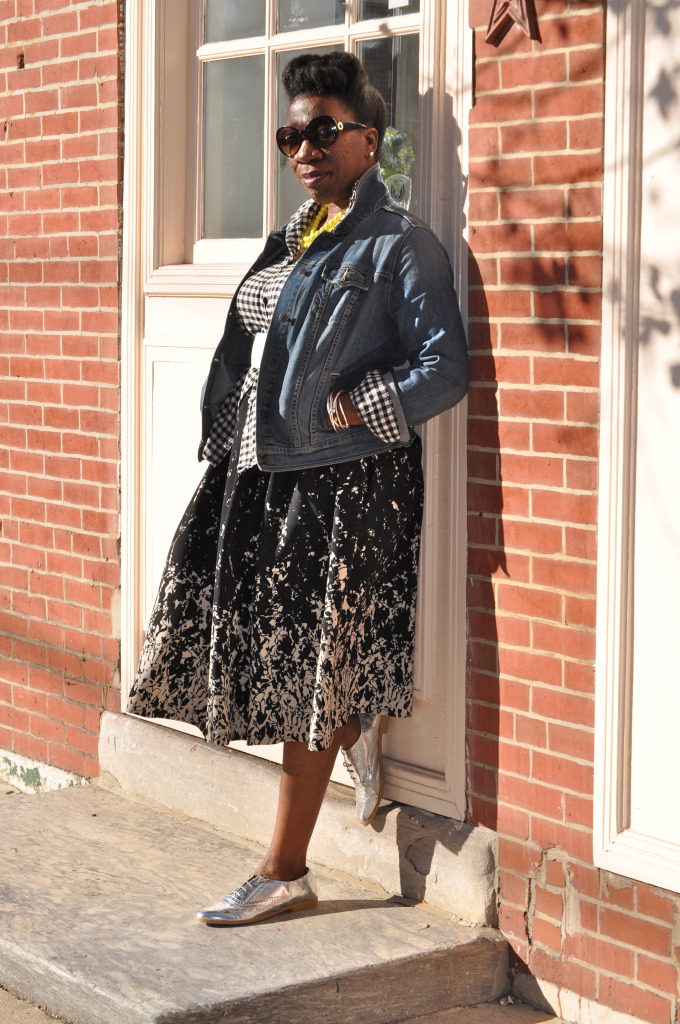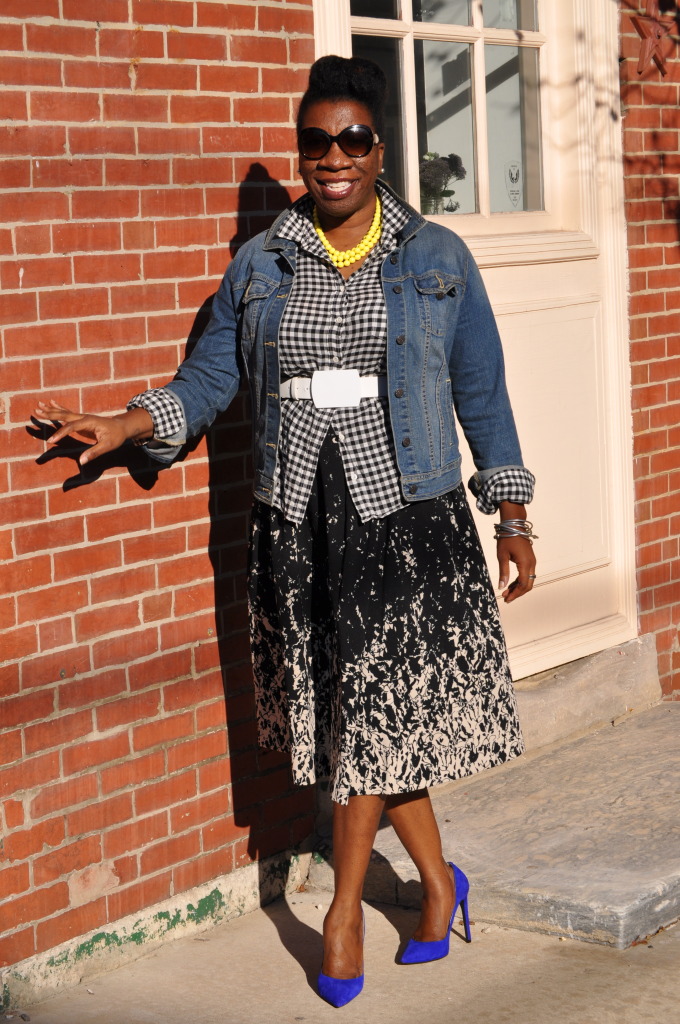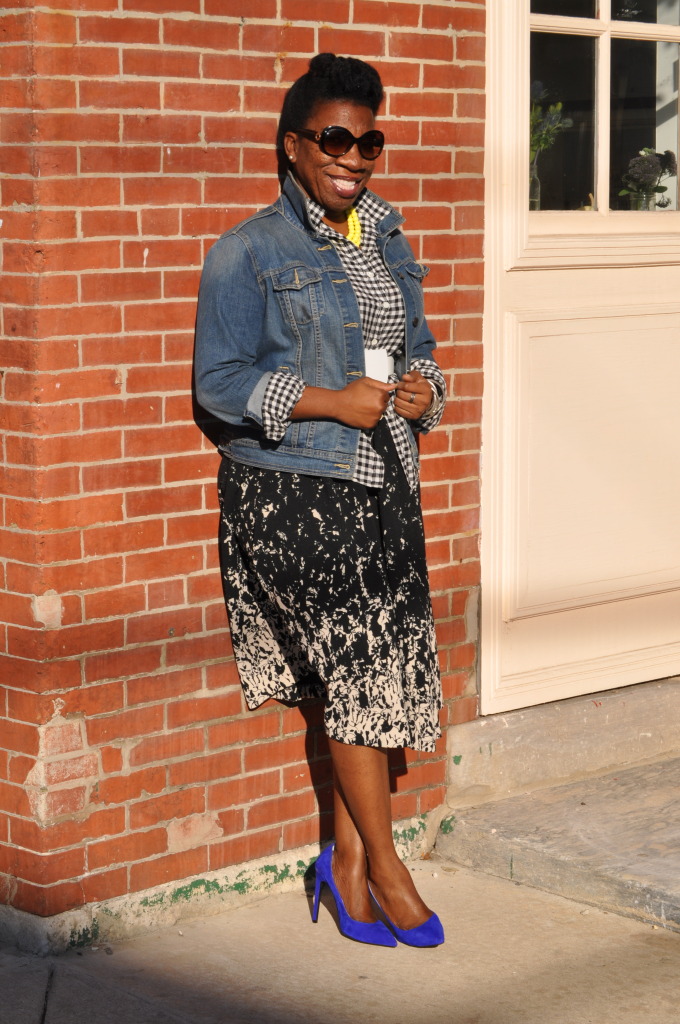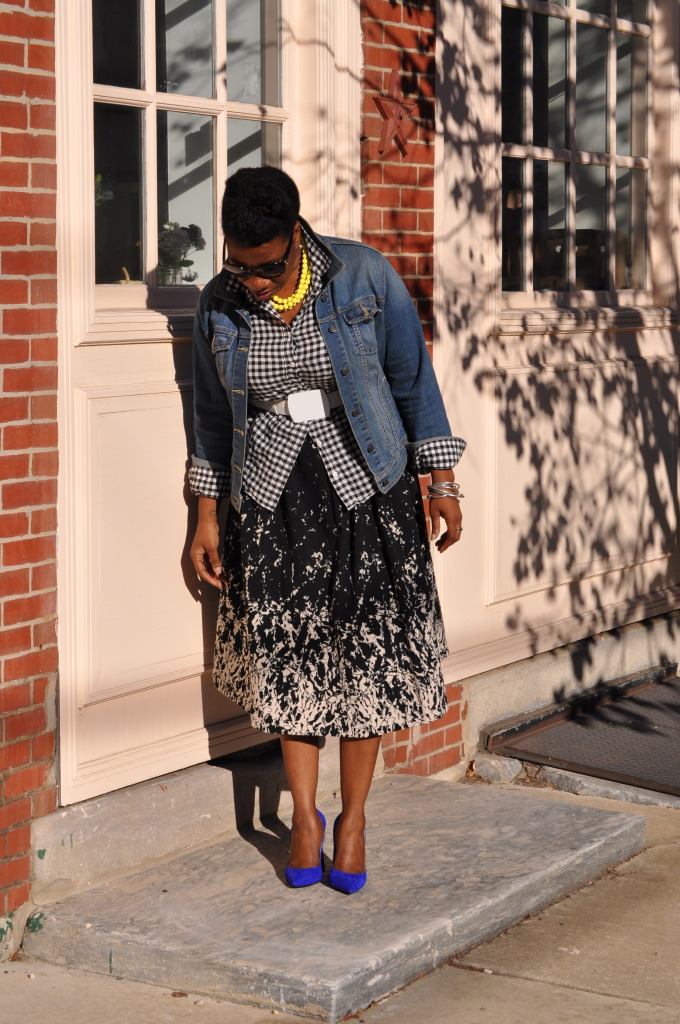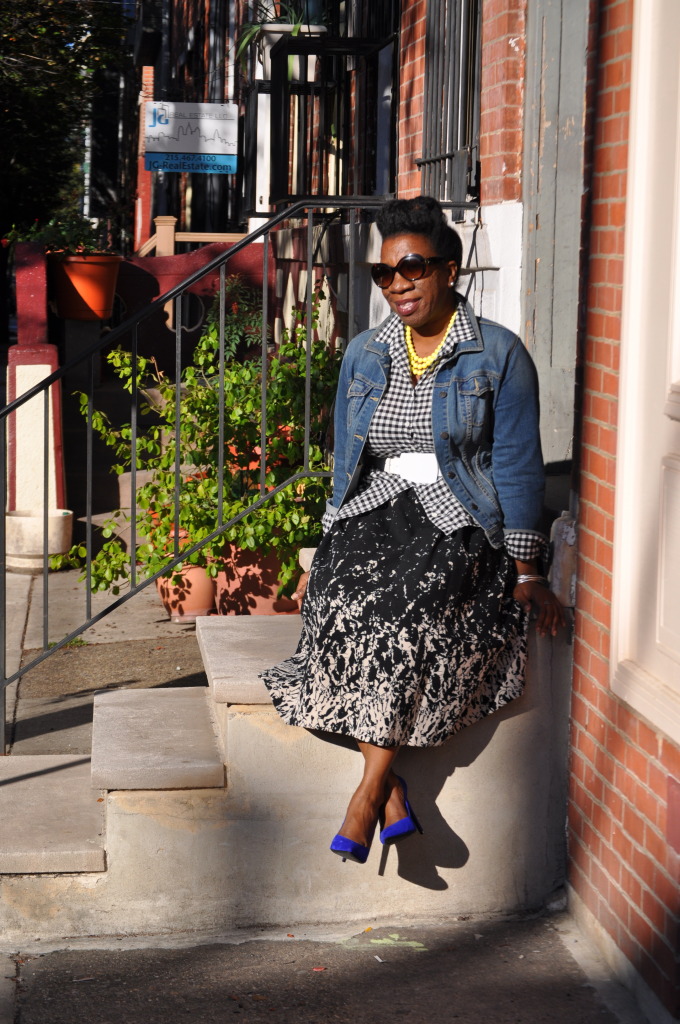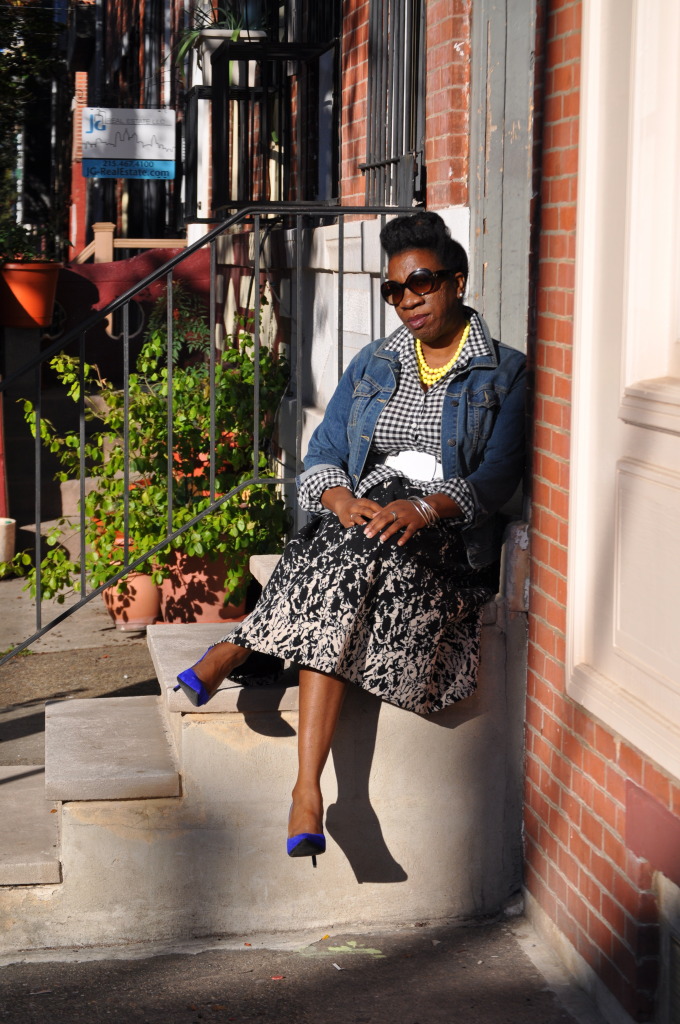 Jacket: Gap (Old Navy has a less expensive version – just as nice too); Blouse: J. Crew; Skirt: H&M (sold out but this is adorable); Shoes: Jeffrey Campbell Dulce (not this color but great options); Necklace: (old but here is a variations); Belt: Zara (sold out – but this one is cute).