So this past week Mrs. Kardashian West posed for yet another magazine spread – arguably her most titillating yet – in Paper Magazine. The picture, which I won't link to because odds are you have seen it a gabillion times already, shows Kimmy's cakes prominently displayed: once covered, jetted out, and balancing a champagne glass catching flying champagne; and again bare and baby-oiled stepping out of what looks like Missy's old garbage bag get up. The whole thing is shot by infamous photographer Jean-Paule Goude who has come under fire for years for what some call his exploitative, demeaning and voyeuristic images of Black women's bodies. A lot of the criticism for this recent photo shoot is about the fact that Kim K. is married and has a child and shouldn't be posing naked, etc… I don't buy into that. Please believe that if (read: when) my body gets where I want it to be – my old ass is gonna be all kinds of nekkid – and there will be pictures. I don't appreciate her hind parts being forced down my throat at all, but her prominence as a pop culture figure means that they absolutely were last week. However, I don't begrudge her the right to do what she will with her derriere.
That is not at all to say that I don't take issue though. It was just a few short months ago that folks were up in arms about Nicki Minaj's Anaconda cover shoot and subsequent video. I can't say that I was not in the chorus of folks who had some issue with her video, but more so there was an onslaught of men who suddenly put on their 'respectable man' capes and flew all over Gotham wagging fingers at Nicki with one hand whilst renewing their pornhub subscriptions with the other. At the same time not too many white women feminist (or white men) came forward in Minaj's defense, but you know, Kim K is different because she is making 'art'.
Ugh.
I'm always a little torn in these debates because its like when someone is trying to fight the cousin you can't stand. If me and my cousin scrap six days out of seven that's our family business – but if you even fix your mind to think about coming for that same cousin –  I will cut you. My point is I don't love seeing Black women's bodies objectified and reduced to parts (i.e. tits and ass) but I also celebrate the beauty of our bodies and curves and our right to put them on display however we want to. I can't stand that Kim K. gets to put on some pearls and slather on some Johnson and Johnson and have big FUN 'breaking the internet' and its artsy and edgy and cool; or J. Lo and Iggy Wack-Wack dance around gyrating and bumping baby booties and its the 'era of the big butt' suddenly – but we can't see the beauty (and skill) of Amber Rose twerking for her man on instagram. I'm not an academic or a researcher. I don't have citations and quotes for you. But I am a Black women and I do have an ass that I like and I resent that I have to have such a complex relationship with my body. My relationship to my butt has always been complicated for a number of different reasons. Men love it until they get it and then they want you to hide it and only show it to them. Then, when you do hide it you feel weird – mostly because it can't really be hidden – and you also feel bad for not really wanting to hide it. And then if you don't successfully hide it you're being fast. No wins. I suspect that Kim Kardashian has no idea what that life is like since she spent her formative years on team flat back and then just cut and pasted her a big, juicy booty when it was convenient. Must be nice.
This post is my mini protest. I'm saying fcuk it. If Mrs. West can break the internet so can I. This ain't bought, pumped up, greased, stuffed or artificial in any way at all – its all mine.  If don't nobody else celebrate it I will throw my own party and I invite you to do the same. There is nothing new under the sun, but the sun does shine a little brighter in some spots 😉 . This skirt is one of my favorites but I rarely wear it because its so fitted. In fact, I normally wear it with some sort of peplum top to take away from the largess of my rear end, but not this time. I paired it with a bright, neon, fitted knit top and my bright blue pumps. And then I stepped outside and tried to break the world.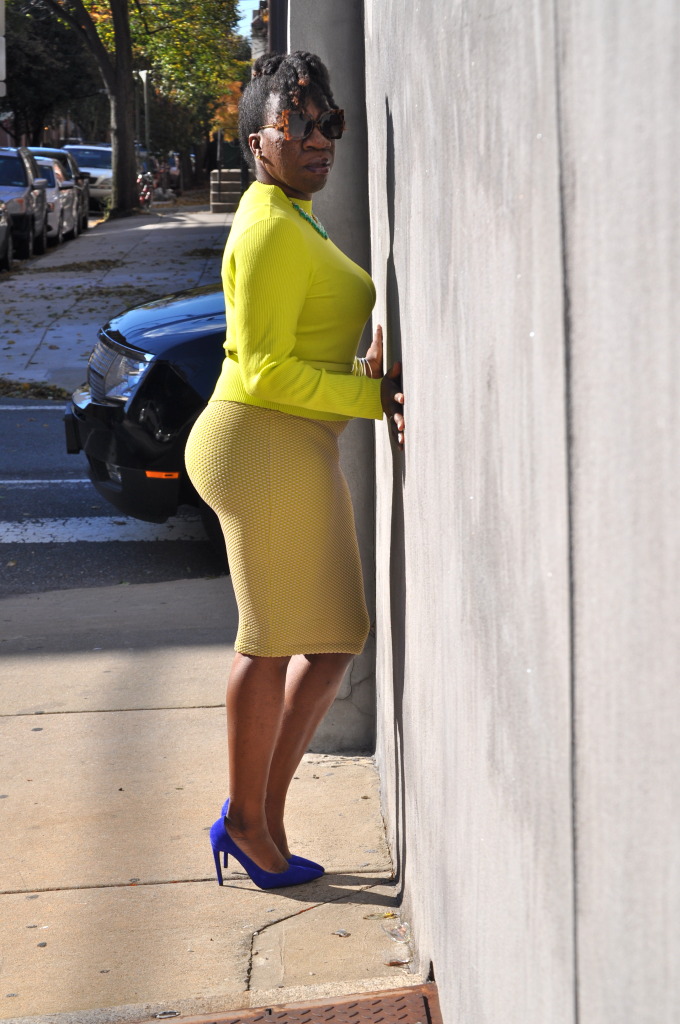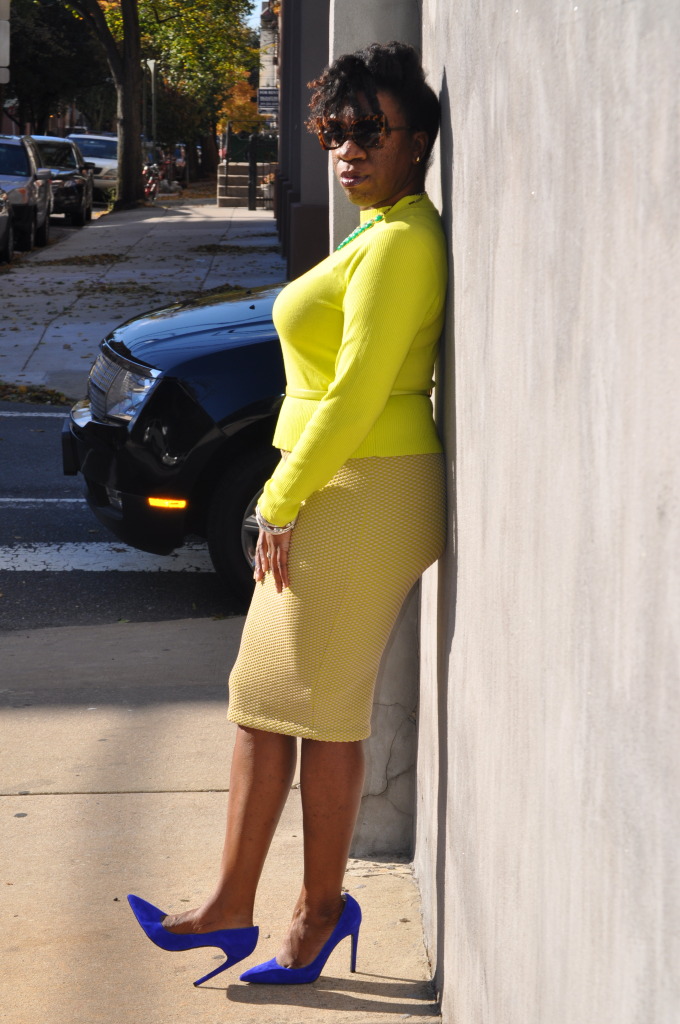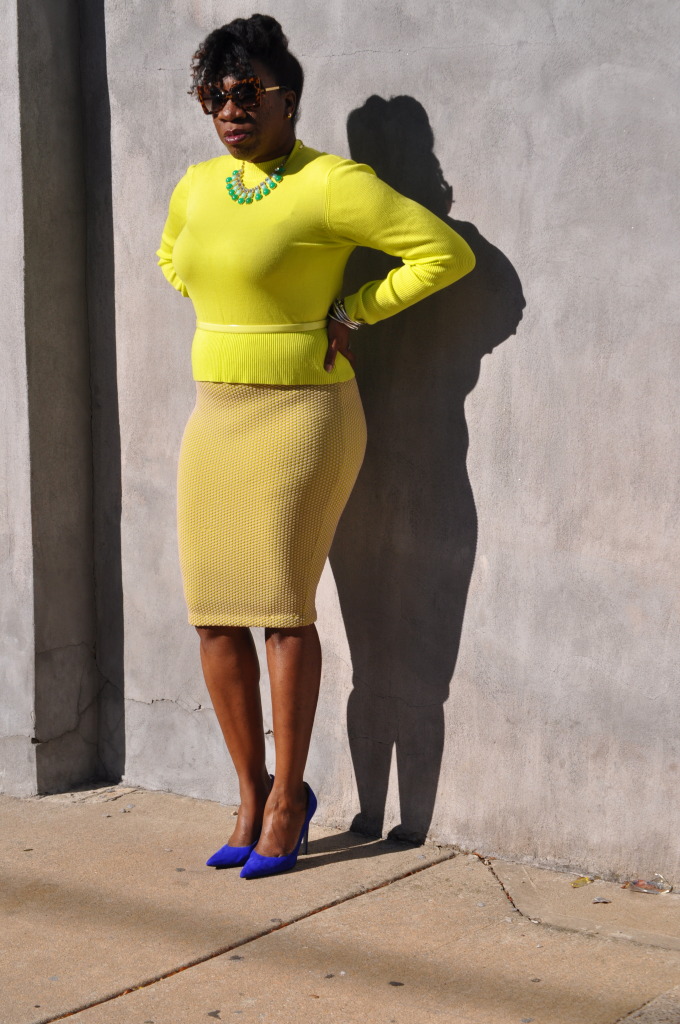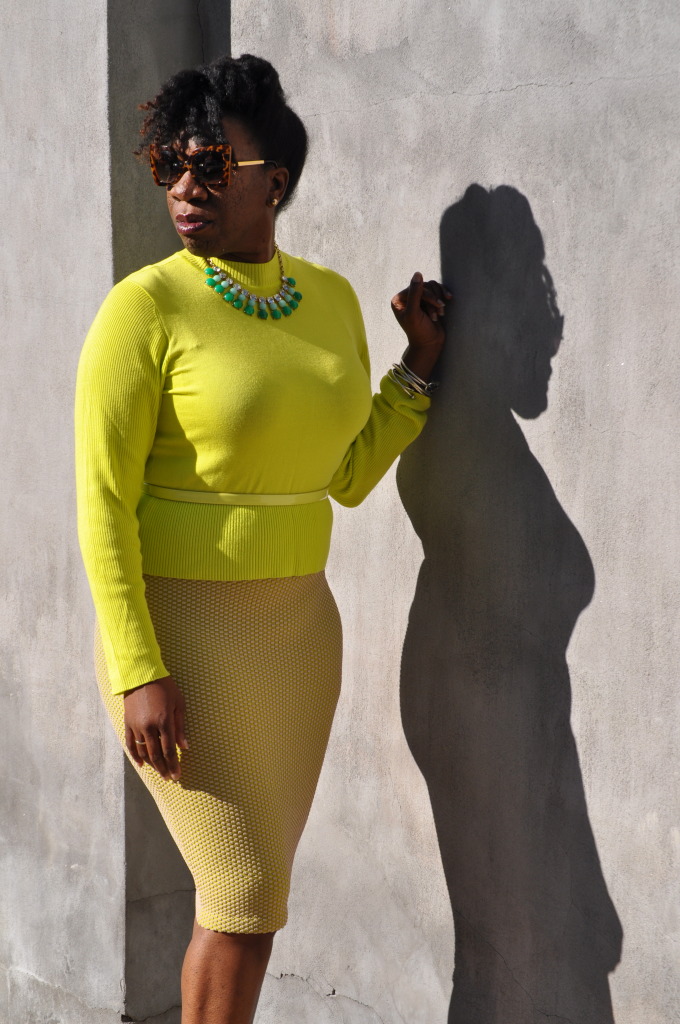 Top: River Island (old, but they have this cute sweater in a similar color); Skirt: H&M Trend (also old, but these are some really cute options here (love the print!) and this is one is really similar here); Shoes: Jeffrey Campbell Dulce