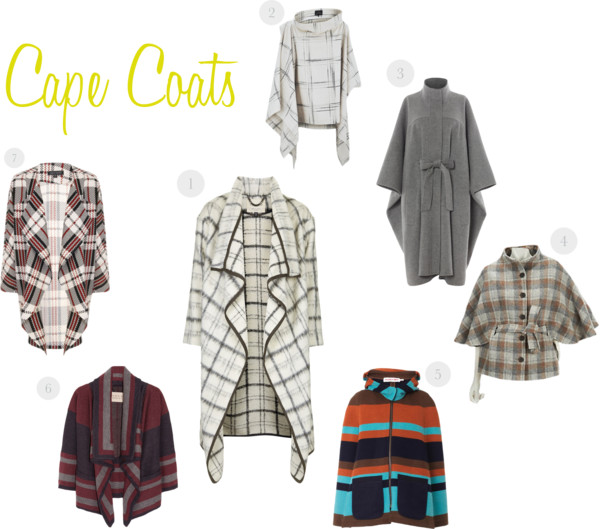 About oh, ten years ago, ponchos were *everywhere* you looked. They were colorful and had fringes and sometimes hoods – and I hated them. They were so, I don't know, wrong. Few people could really pull them off – or should – but nearly everyone tried. I was so glad to see that trend die out.
Fast forward to Mercedes Benz Fashion Week Spring 2013 and suddenly ponchos and capes started popping up again in fall collections. Zac Posen, Oscar de La Renta (RIP), Burberry and Derek Lam all presented some play on the traditional cape in their runway shows. As is par for the course with Fashion Week, it did not take long for us to see capes and ponchos popping up in our favorite retailers and fast fashion spots. This fall I am pleased to say that I love the new iteration of the poncho/cape – especially the coats. Cape coats are everywhere now and they are colorful and drape-y and warm and versatile. I love draped clothing. Coats with draped lapels are so divine to me. They evoke images of 80s soap opera heroines and winter Speigel catalogs! It is hard not to slay in a well draped cape coat and sickening boot. Seriously.
These are a few of my favorites above. I normally try to post a good mix of high-end and cost friendly versions, but these are pretty heavily designer (sorry). They are great to draw inspiration from if nothing else.