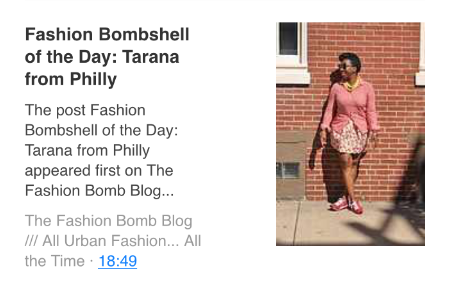 I started this blog in the Fall of 2014 after first launching it on my sister site Forty is the New Forty in 2013. I started this site because I LOVE fashion, shopping, and style. I had so many conversations with friends and colleagues who suggested that I take my commentary and OOTD pictures off of Facebook and into the blogesphere. Dreaming up new outfits is so much fun for me, dressing up and taking pictures with my faux-tographer daughter is even more fun and well, shopping is my cardio – so a blog made sense. I have followed Fashion Bomb Daily religiously since about 2010. I adore the founder, Claire Sulmer and what she has done in creating a web destination for the the brown girl fashionista. I log on to FBD every single day to read articles, catch new items of the day and most often to see the new Fashion Bombshell of the Day. It's my favorite feature on the blog. I love to see what the trends are and how the sisters are fashioning them around the globe. I can also exercise my stylist chops from a safe distance behind my keyboard and cull together a little community of like minded women to share a 'kee' with here and there. I have seen some vicious attacks that almost seem personal in the Bombshell comment section. I knew that whenever I submitted I would have to (a) bring my absolute 'A' game and (b) gird my loins. I think that I did both when I submitted my photos for consideration a few weeks ago. I was just delighted when I got an email from Claire on Wednesday, January 21st saying that I was selected as the Bombshell of the Day. However, that joy soon soured in the face of the reality of the internet's far reach. I spent the day being showered with amazing feedback and love. People appreciated my aesthetic, my style and my age and it made me feel wonderful. They also had a LOT to say about my face, my skin and my features. Listen, I have heard it ALL. Forty years in this body with this face has left me sans surprises. I have never, however, experienced vitriol for the sake of being mean as an adult. It was a new and different experience for me. I didn't like it because I am human. But I understood it because I am human. Some people have a need to be vicious and mean for a variety of reasons from being traumatized themselves to just poor home training. I get it. I'm actually writing this post as a thank you to the dozens and dozens of folk – over a hundred – who offered kind words, encouragement, compliments or just honest critique. I hope you are now rocking with the SheSlays.com family bc I drop dime on all of the good sales and shopping tea here at least once a week. I also feature other bloggers who are slaying the game and hot items that one of you might want to go out and catch!
If you are new here – welcome! If you are already down, thank you!
P.S. you can check out my feature on Fashion Bomb Daily here.