Sooooo, how are you enjoying your faux-snow day! (East Coast folk that is..)
Fresh off of my selection as Fashion Bombshell of the Day on Fashionbombdaily.com last week, I'm so excited to post these new pictures! I got this coat a while back (from my favorite vintage/consignment/resale spot – Buffalo Exchange) and have never posted pics in it – mostly because I couldn't pull together an outfit in my head that was as FLY as the coat! They didn't even have time to tag and hang this coat in the store. I saw a woman selling it and hovered around the counter to snatch it up. It said medium but mama tried it on anyway and it was like Cinderella and Prince Charming – now we go together. I had to mend a small snag in the leather and get the fur cleaned (bc clearly whoever had it in storage had never cleaned it) but that plus the price I paid is only a fraction of what this coat would cost brand new (genuine leather and fox fur? Puh-leeze!)
I got these boots last year (thanks to a random FB post from a friend that led me to these beauties which I couldn't afford but found an alternative) and I knew that they were my coat's soul mate. They were destined to be together forever and ever…but again, what outfit could I wear to really slay the game. The answer came to me as soon as I decided to take these photos – nothing. I decided to fall back on my go to 'all black' in order to let the boots and coat take center stage. I had so much fun taking these pictures! I was absolutely channelling my girl Tarji as 'Cookie' in my new guilty pleasure Empire.
Anyway, I hope you enjoy! Let me know what you think.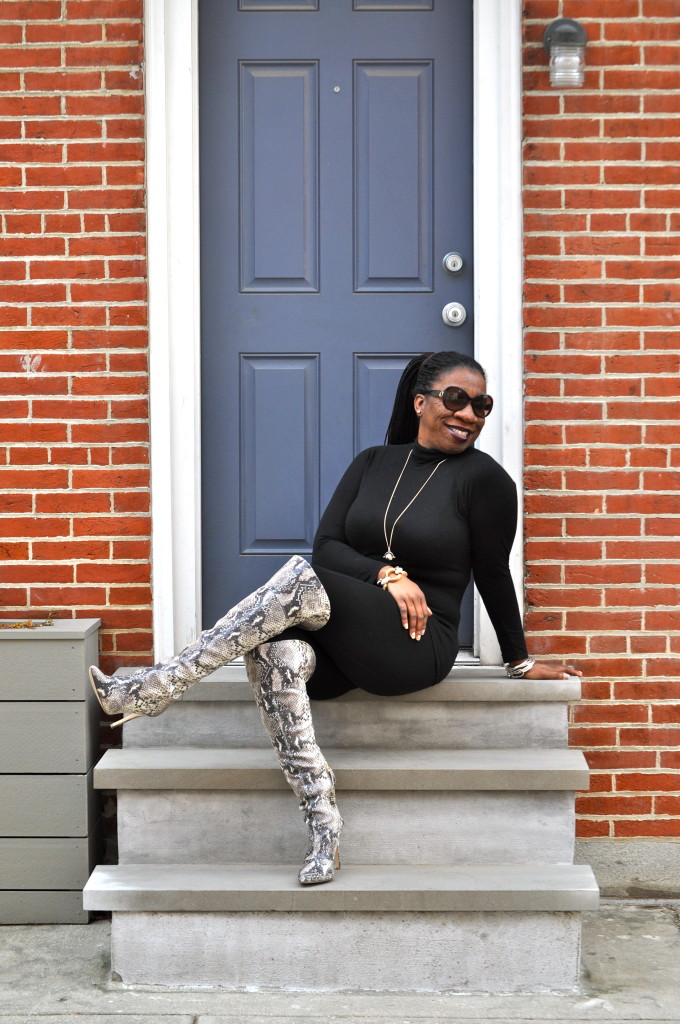 Coat: Vintage (Rachel Stewart of Rachel Steward Jewelry has started a vintage store and she has a bad burgundy trench similar to this HERE and then you can hop over asos.com and grab a faux fur collar like this or this or this <—–that one is so haute.)
Boots: Guess (A few things before you go on the Guess website. (1) THESE boots are still available and they are on sale for 50% off right now! So go. Fast. (2) Guess has another pair of similar boots in snake skin called Zonian. They are taller  than these and you might be tempted to get those instead. I bought those first and promptly returned them to get these. They aren't leather and the material is flimsy. When you pull them over jeans they aren't smooth in the way you will probably want them to be. If you have skinnier legs they will sag on you which is decidedly unsexy. Just wanted to forewarn you ladies so you don't waste your time. The Naddy – which I have – are about 3 inches shorter, but they have a small zip in the back for wider calfs and they are made of a more sturdy material (also not leather) so they have a more sleek fit and give a better sexy.)
Leggings and Turtleneck: Both Zara and both OLD. Y'all know these are Zara staples. They always have leggings and turtlenecks in every color. If you hurry you might grab a cute pair for twenty bucks in the end of season sale going on now!