Last weekend was the annual White House Correspondents Dinner – also known as 'Nerd Prom' to those of us who love the mix of high fashion and political power under one roof. Like I've done every year since President Obama took office, I waited patiently to see what our fabulous and always flawless First Lady was wearing. It has become customary for the FLOTUS to not only wear an American designer to the WHCD but to get a little funkier (if you will) with her style for the occasion, and Mrs. O never disappoints. One of my all time favorite looks of hers is the multi-colored Naeem Khan gown that she wore to the
2012 Dinner
. It was a strapless number with layers of colorful silk that she paired with hoop earrings and a feathered bob.
Never one to disappoint this year Michelle Obama chose a slim metallic gown by Zac Posen. She looked amazing as she shimmered in the beautiful dress and her make up was also gorgeous – but the real show stopper was her HAIR. With each passing year Mrs. Obama and her stylist use the WHCD to flex a little more edge and diversity with her look.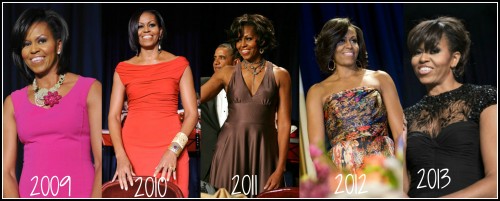 Last week, her usually straight, bobbed, hair had big barrel curls that stopped at a little past her chin. It was a fun, flirty break from the norm for her and it was adorable. But almost as soon as that visceral "Okaaay, I see you FLOTUS!!!" left my mouth – I felt my lips twisting up. In my mind I imagined how the white mainstream publications would pan her for for her new 'big hair'. I imagined they would say it was 'messy' or 'off trend' or any of the others ways some non-Black media outlets describe Black women's hair (
think the Zendaya Oscar incident
). I was relieved the next day when I read all of the positive feedback on both her hair and outfit:
Her new 'do was very well received across the board, from the main stream to social media, folk fell in love with the FLOTUS' new curls. So imagine my surprise to read the sharpest criticism of her lovely coif come from a sister. Yesterday, Elizabeth Wellington, style reporter for the Philadelphia Inquirer and Philly.com
wrote a story
panning the FLOTUS for 'glamorizing' the "wash and set" and called her curly coif "styleless" of all things.
Now, I think public figures are always up for critique, particularly around style and fashion. I have even raised and eyebrow or two at some of Mrs. Obama's dress choices here and there.  This look may not have even been one of her best either but two things raised my ire about this piece in particular:
First, this is one of the few times we have seen texture in the First Lady's hair. While she has worn waved and curled styles before something about this felt more like her natural hair. A few years back people went crazy when someone created a meme of Michelle Obama with what looked like a puffy, twist out. The depiction of FLOTUS seemingly embracing her natural hair and wearing it big and proud set the natural hair community ablaze.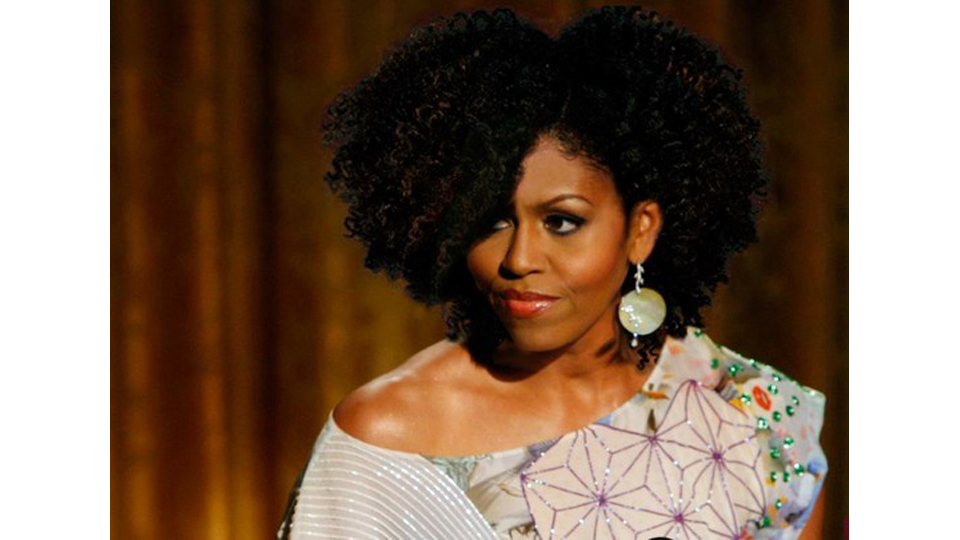 See, even though the 'natural hair movement' is all the rage of late, Black women still have a hard time being accepted in the mainstream for rocking twisted, fro'd and loc'd in our natural texture. Very seldom do we see actors, entertainers or politicians wearing a natural hairdo (although many don't chemically treat their hair). For that reason alone it was kinda dope to see FLOTUS with her big, curly hair. Wellington acknowledges the long held tradition of Black women and girls having their hair curled in her write up, and that's exactly what's spectacular about Obama wearing her hair in a way that resonates *specifically* with Black women. In my mind it felt like a clap back at critics who always have something to say about her. She's coming to the end of her tenure as First Lady and she's clearly getting more and more stingy with her fu*ks and I for one am so here for it. I want to celebrate her for stepping out of the box and making a funkier choice.
The other thing that bothered me was the comparisons used in this article:
"Nancy Reagan never veered from her signature short cut, and although Hillary Rodham Clinton may have changed up her look during her husband's presidency (starting with a headband and ending with a shorter coif), it was more consistent.*

With Obama, as soon as we get used to one hairstyle – remember the perfect bob she rocked during her husband's first run for office? – she switches it up. Bang-gate made for a lot of fashion chitchat. She's flipped it under, flipped it out, pulled it back in a tight ponytail. . . ."
Word? We are really holding the first African-American First Lady of the United States to the model of Nancy Reagan and Hillary Clinton? AND we're admonishing her for not being 'consistent' with her hair?? Although Wellington backs off the statement a bit by saying "…Obama is simply doing what Black women have been doing for decades..." I can't fathom how a sister could ever even *write* those words about Michelle Obama. I mean I'm not saying it calls for a Black card revocation but her Black girl privileges might have to be temporary suspended.
All jokes aside. In a moment when it would have been nice to lift up the First Lady for being a little daring and perhaps giving a nod to her Black girl-ness,  I'm disappointed that Wellington decided to chide Mrs. Obama for her hair choice especially when so FEW people agree with her. There are plenty of people to pick apart for much worse fashion choices. I for one hope Michelle Obama keeps adopting new looks and styles because her freedom to do so is just another way to embody Black girl joy.