Heeeeey! Are you all ready for Thanksgiving? I'm not. I'm totally in denial about how much cooking I have to do in the next 24 hours. But, alas, I am SUPER excited to see my family. Especially my cousin coming up from DC who is my lil fashion partner (shout out to who-stina). It's going to be a super mild Thanksgiving this year (again) and I am so here for it. I have been back in NY for almost three months and I LOVE the autumn we are having. I was so afraid that I was going to need a triple fat goose before the holidays even hit but temperatures have been so mild that I was even fine in my sleeveless camel coat! Mama nature is having hot flashes and it is giving me greater and greater fashion days. No complaints.
This ensemble is one of my favorites because I am wearing my favorite color: GREEN! I don't even know when I fully acknowledged that this was my favorite color. I think it happened gradually. I wanted it to be red for the longest time. And then I tried my hand at peach – but that green kept creeping into my life. Anyway, the bulk of this ensemble is from my favorite collection in one of my favorite stores – H&M Trend. It's a neoprene skirt (which…eh, I'm not crazy about) but I LOVED the print so much that I had to grab it up. And this sweater is too cozy for words. Now this sleeveless coat. Chile, listen. I can't remember what blogger or website I *first* saw a sleeveless coat, but it's been on my mind for a minute – I have just been searching for the right one. A few months back I saw one of my favorite bloggers Enocha from Locks and Trinkets in this coat and knew instantly that this was the one. It's from Missguided and I (of course) caught it on sale!! Get into the pictures below.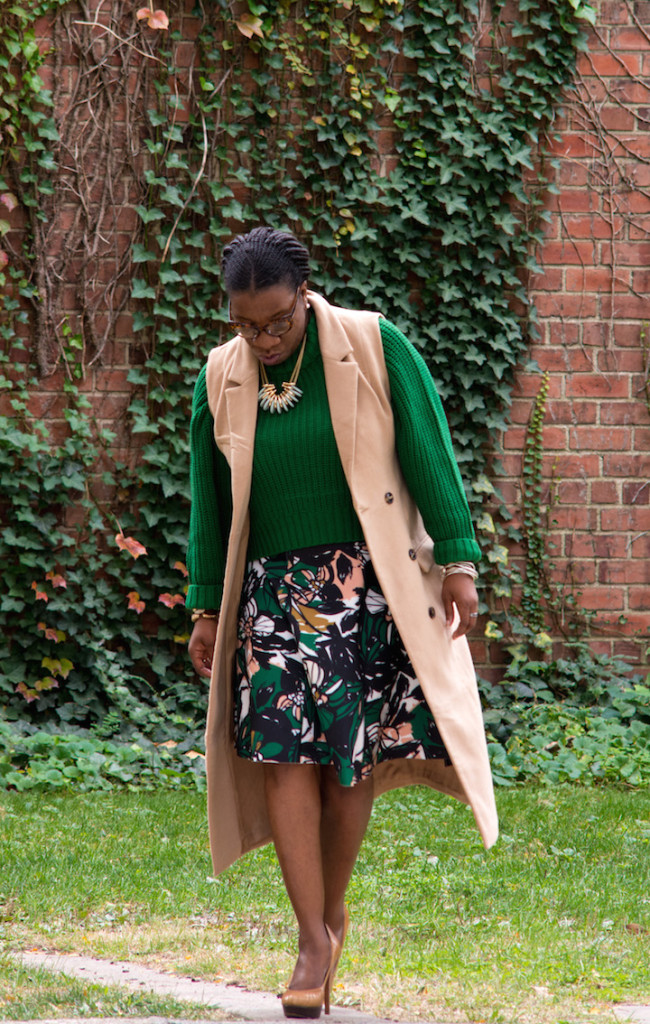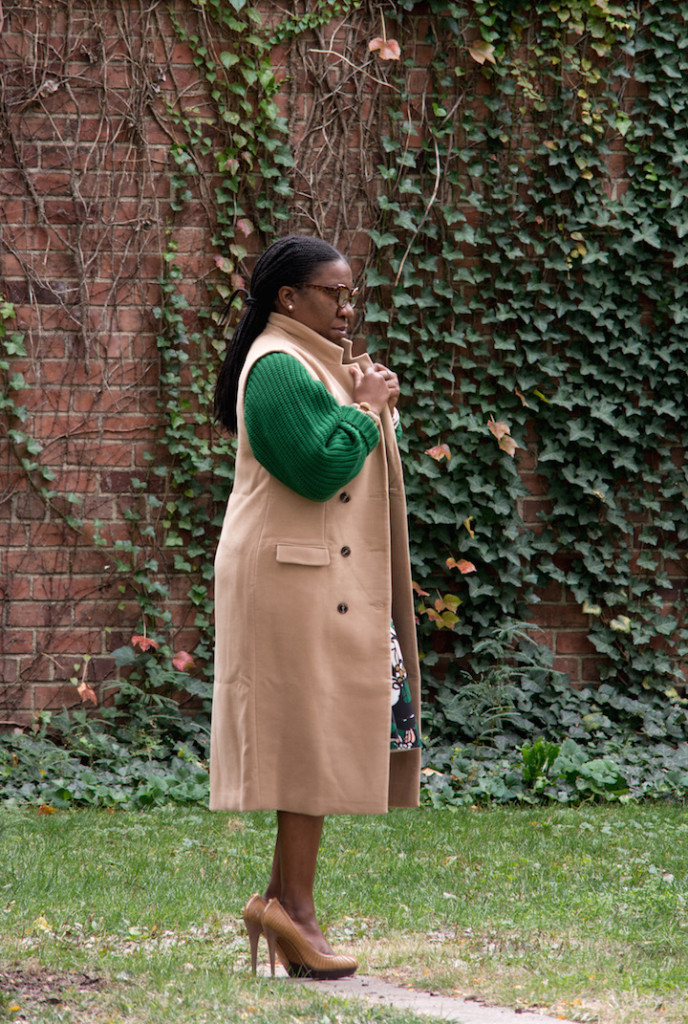 Sleeveless Coat: Missguided; Sweater: H&M (sold out, but these are great alternatives here, here and here); Skirt: H&M (comes in two prints); Shoes: BCBG (old – and no they aren't too big, by ankles are weird – leave me alone); Necklace: H&M (you see a theme here? lol) There are tons of cute options online, but you'll do better going into a store.