It's time for Pink…
So, yes, it's Valentine's Day. And, yes, this is your typical Valentine's day post. But LOOK —> I'm wearing PINK! Isn't that exciting!! I mean scroll back and look – I don't wear pink too often. Hardly ever. In fact, the last time I recall wearing this much pink is here.
Ok, so if you follow  me then you know there is always a story with me – this dress is no different. I first saw this dress back in November while window shopping during my lunch break. It was retailing for $178 in the Banana Republic Monogram Collection section. I tried it on and fell in love – and of course then became obsessed with waiting for it to come down. It went on sale online for $118 – with no additional amount off because it was just a 'special' – so I waited. A few weeks later I returned something that I bought from Banana and spotted the dress in the sale section for $158 with 40% making it just under 100 bucks. I contemplated and contemplated and finally just got it. It was the last one and I really, really loved it so I decided to splurge (yes, splurge – it is a *rare* occasion that I spend even close to $100 on a single item of clothing that is not a coat). Anyway, I got the dress home and watched it in my closet for weeks. Then one day I was doing some online wish shopping and found a few things that I really wanted. Those things came to about $100 but I had reached my spending limit for the month. Then it hit me – THAT PINK DRESS! The next day I took the dress back and got my money back so that I could order the other clothes. I came to peace with the fact that I would never have this dress and moved on. Fast forward. I am in Albuquerque for work a few weeks ago and of course I go check out the local stores (Pro tip: Always, always go visit your favorite stores when you are out of town. Especially if you are in another region of the country. I almost  always find things from my city (NYC) on sale in other places. What you like in Chicago they may hate in Atlanta – or the weather is different. Whatever the reason, if you do a little searching you can find some amazing deals) Which brings me to this dress. And Albuquerque. I walked into the Banana Republic that was having a 50% off of sale items sale. The first thing I saw was the sequin skirt that I have been lusting for (another story) it retailed for $158 and it was — are you ready? On sale for $36!!!! I just knew my size would be gone but it was not. As soon as I turned the little corner to where the rest of the other sale items were I knew I had hit pay dirt. This dress was there. In my size for…………… $32!!! I don't know what they are on in New Mexico but it I ain't asking questions. I  left there (with a few more things) and this dress for a cool $16 y'all. True story. I wish I could show you receipts.
Anyway, I saved this dress for this time of year so I could make my obligatory Valentine's Day post. I love this dress. It's super comfortable – but not super flexible. I don't love the way it falls to be honest because it can make me look incredibly boxy at certain angles and when you have shoulders as broad as mine are you do NOT want that. But, I love the dress and I love the shoes. Let me know what you think!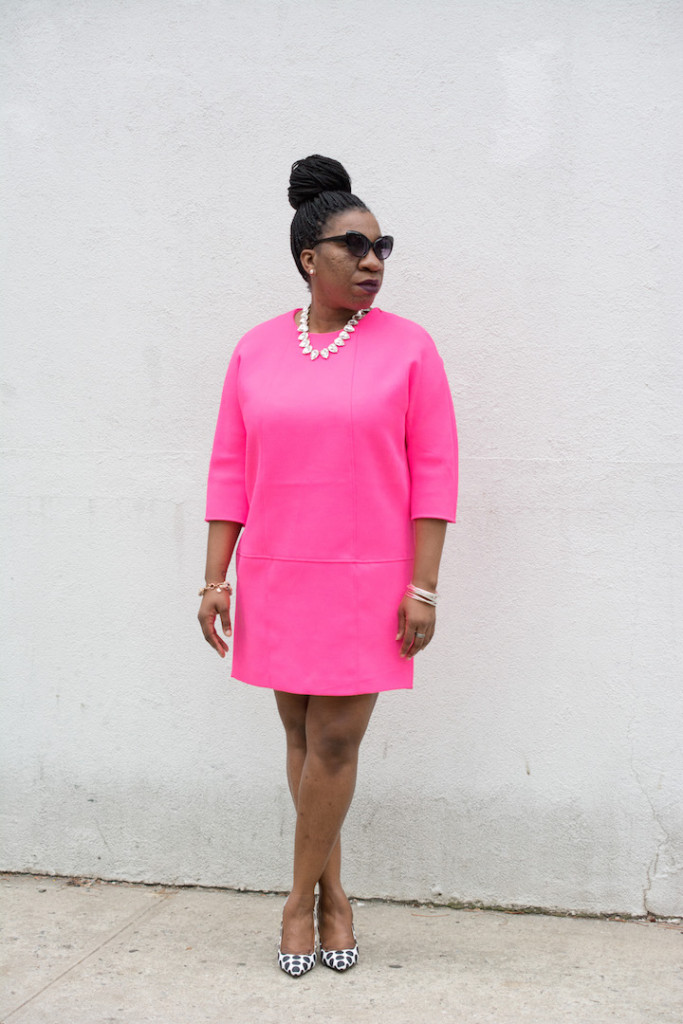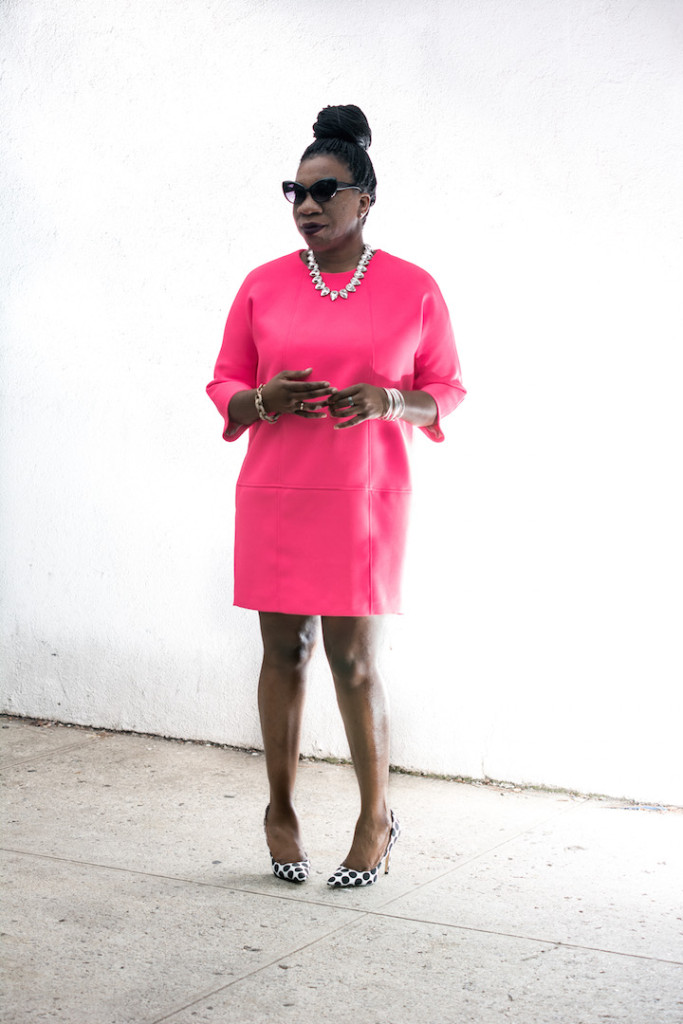 Dress: Banana Republic (limited inventory) | Shoes: Aldo (Sold out, these are opposite but similar) | Necklace: BaubleBar | Sunglasses: Zero UV