I love vintage. In particular, I love vintage from the late 50s/early 60s, but I also dig a great 70s glam find as well. This month I'm featuring a few of my favorite vintage finds for my latest look book. Where I can, I tried to find comparable items, but because of the whole vintage thing, you know…it was difficult for some things. Hope you enjoy. Feel free to share and comment below!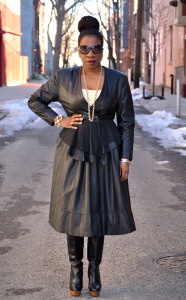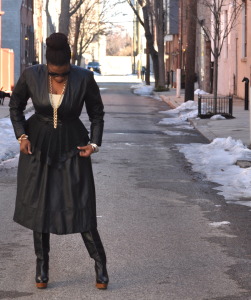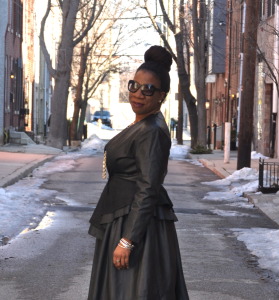 Black leather peplum jacket: (vintage) similar here and if you really want to go flygirl try this one; Leather circle skirt: (thrifted). This one is similar and there are a few sizes left. And, again, if you are balling withOUT a budget THIS is the one for you; Leather Boots: Zara (old, but these are kinda nice!)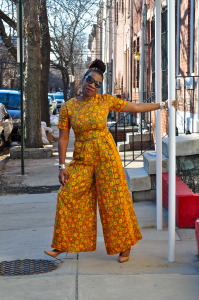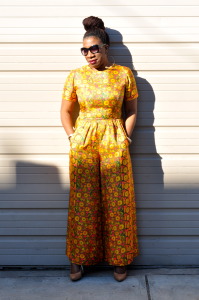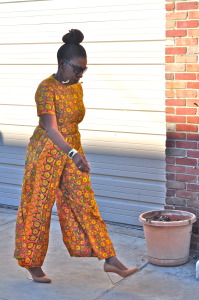 Vintage floral jumpsuit (This is my ABSOLUTE favorite vintage find of the year – I adore this jumpsuit. I found a few similar ones here, here, here and here, but really it's just luck and consistency. Find a great vintage spot that carries your size regularly and check often.); Beige Wedges: Mason, Martin Margiela for H&M. (old) these aren't even close to the same, but they are fly and they are MMM as well. Indulge yourself!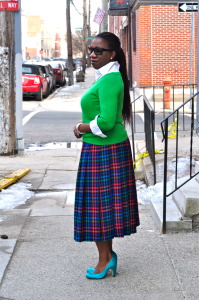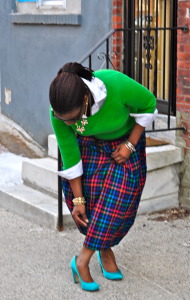 Green sweater (old, similar here); White button up shirt (old, but you SHOULD have one in your wardrobe already. If not, try one of these: here, here or go classic with this one here); Plaid skirt (vintage) similar here; Shoes (Asos, old, but these and these are really similar)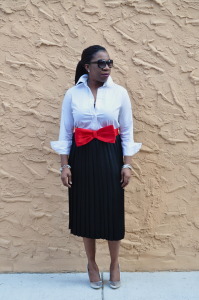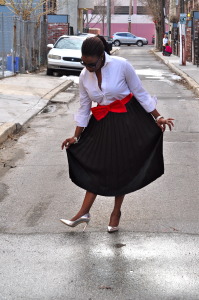 White button up shirt (again, see above); Black pleated skirt (vintage) these are also lovely: here and here; Red bow belt (old) it's hard to find a belt similar, but one of these sashes would be adorable too; Silver shoes (J. Crew, old, but these are similar)
If you are in the market for some new vintage wears check out Tracey Chambers Vintage and if you're in the NYC or tri-state area check her out in person. Also, check out one of my favorite Etsy vintage shops here.